Hunter X Hunter
Started by
Syronis
,
Nov 08 2007 11:51 PM
Posted 11 December 2008 - 12:21 PM

ahhh~......
when the story came to interesting situation,
the mangaka back to hiatus again....

grrr...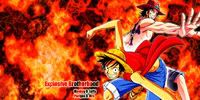 -
life really doesn't go the way we want it, doesn't it
-
minami-ke okaeri
-
on a street in Kyoto he became a person to never return
-
rurouni kenshin
---
Posted 21 April 2010 - 08:05 PM
Yeah, finally Gon and Pitou are fighting. I check the raws when I heard that this chapter is good. This is the grudge fight I've been waiting for. It's been along wait... Gon has really change this last few chapter. Full of rage.

---
---
0 user(s) are reading this topic
0 members, 0 guests, 0 anonymous users
DMCA ·