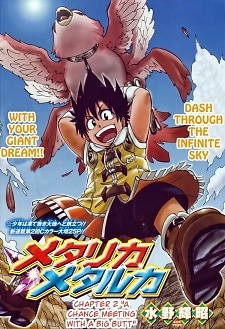 Title: Metallica Metalluca
Mangka: Mizuno Teruaki
Genres: Action, Adventure, Shounen
Serialization: WSJ
Status: On Going

In a world where rare metals drive the economy, "Minea", the people who seek out these metals at the risk of their own life, are highly respected. A strange boy called Ruka has wandered destructively into the failing town of Elza, declaring that his goal is to be a Minea! He ends up under the surveillance of a village girl, Shella, whose little brother is sick from a poison gas accident in the town's now-closed mine. But there may be more to this situation than meets the eye! Will Ruka be able to help his new friends, and maybe one day become a legendary Minea?
This is a new series in WSJ, yes its another Action Adventure, but hey we can hope that it turns out decent and not into a typical WSJ Action Adevnture right? Anyway i start reading this 2 weeks ago, i know its early days with only 5 chapters scanned even though 6 are out, but so far i think it shows promise. The main character you will notice a few similaritys with various WSJ heros in both his looks and personality. But i like it, in that the humour has has a nice feel to it. I'm looking forward to this series devloping, anyone else started reading this?